TT&C Slots LLC rents skill stop slot machines (Pachislo) for private parties. We provide all tokens, baskets, and any other items needed by your guest to operate our machines.
Our personnel will arrive a couple of hours prior to your party (depending on the number of machines) and set up the machines and fill them with tokens. They will test each machine and replace any machine that is not functioning at 100% with a spare. After all of the machines have been set up and tested, our personnel will get out of your way to allow you to do your final prep for your party.
Just prior to your party getting started, our technician will return to tend the machines during the party. They can also hand out tokens to your guests if you like. We leave it up to the host on how they would like to handle tokens. At some parties the host just wants their guests to play the machines as much as they want.
At these parties it is easy for our technician to hand out a basket of tokens to everyone who wants one. At other parties the host will have prizes for the most tokens won, and they like to control the tokens.
TT&C Slots LLC absolutely does not allow our machines to be used for gambling. Our machines are set up to accept and payout tokens only. Converting these machines to accept quarters or other coins would make them illegal. We have invested a lot of money on our machines and cannot take the chance of having them confiscated.
We will provide tokens for our machines. The party host may control the tokens to their guest but they may not charge any money for them. Our staff is required to shut down all of the machines if they notice they are being used for real gambling.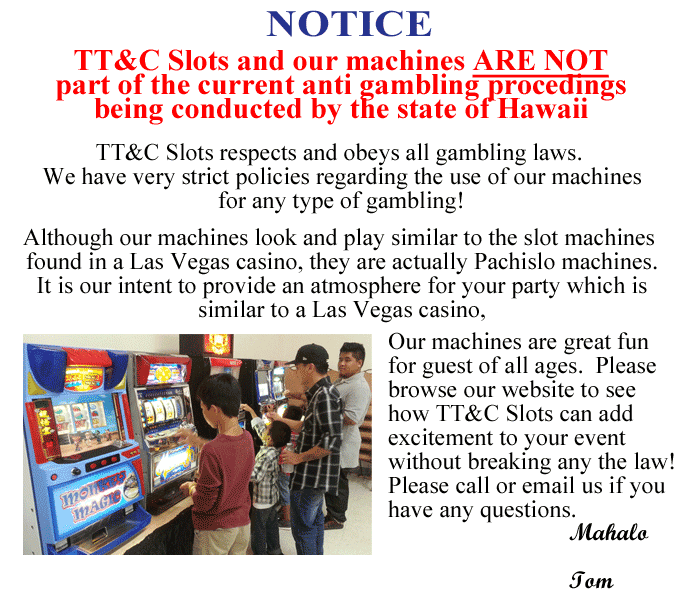 Our main goal at TT&C Slots LLC is to provide our machines and services at a price that will not break your budget. We have hosted many parties and understand just how fast cost adds up.
Below are our standard prices for our machines and stands.
Because of the amount of work it takes to set up and tear down the machines, we do have a $500.00 minimum for most events. All prices are for the duration of your party up to four hours of play.
Price includes all items required to play the machines (tokens, token cups, stands, etc.). The Price is valid for up to four hours of playtime. Delivery and setup are included. An attendant will stay with the machines for the duration of your event. It cost around $135.00 per machine. Each additional hour of play (past four hours) costs $15.00 per machine.
Premium stands hold a single machine. They have the belly glass from a Las Vegas slot machine in the door which is back-lit. We have a limited number of stands. The stand cost around $35.00.